Orange is the New Black Season 3 - Renewed
Posted by The Nerdiot on July 19th, 2014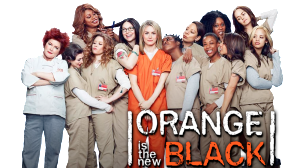 Netflix has been upping their game in the shows they're producing, with great shows like House of Cards and The Killing, Orange is the New Black seemed to have been a leader in this market and it's now official that OitNB will be seeing a 3rd season. But what's in store for our prison pals and when will season 3 start?
Season 3 is scheduled to start in June of 2015, and it's reported that everyone will be returning for the 3rd season. However, there is a rumor that Larry Bloom, played by Jason Biggs, would not be in the third season as often as he has been in the past.
It is also said that Laura Pepron will be seen more in this season as well. Season 3 has already started filming.
There are a few characters that we will not be seeing in the third season, including:
1) Yvonne "Vee" Parker (Season 2 only)
2) Tricia Miller (Season 1 only)
3) Susan Fischer (Season 1 and 2)
4) George "Pornstache" Mendez (Season 1 and 2)
5) Miss Claudette Pelage (Season 1 only.. After being sent to Max security prison)
Are you a fan of Orange is the New Black? Do you think season 3 will keep up the
The full season 3 should be available in June, 2015.
You may also like..