Weird Slinky Man
Posted by The Nerdiot on August 8th, 2014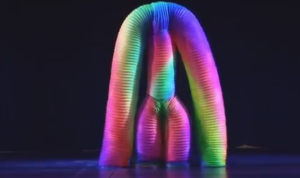 In case you have not seen this video of what appears to be a man inside of 4 giant slinkies.. now is your chance to view the Weird Slinky Man!
This is a video featured on the El Show De Piolin Facebook page. Combined with array of colors moving fluidly across the stage, sprawling out and coming back together, dancing and so much more, this is a video that will you entertained the entire time..
Make sure to like Nerdiots on Facebook by clicking here!
Make sure to check them out on Facebook and don't forget to check out the links below and leave your comments!
You may also like..
One Response to "Weird Slinky Man"