April Fools: Mortal Kombat Special Forces HD on the Way
Posted by Frazier on April 1st, 2014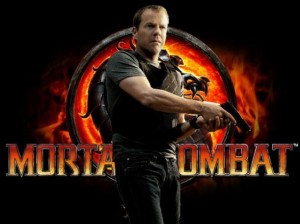 APRIL 2nd UPDATE:  As many of you may have guessed this was all an elaborate hoax from our friends over at Mortal Kombat Online.  It even warranted a tweet from Netherrealm Studios Creative Director Ed Boon.  Now back to our regularly scheduled news reporting.
ORIGINAL:
Last month we told you that Kiefer Sutherland had spilled the beans on an upcoming Mortal Kombat game, and it looks like he just did it again.
In a reply to Mortal Kombat Online's guessing game on who he might play Sutherland said he would be playing Curtis Stryker's voice in an upcoming HD remake of Mortal Kombat Special forces.  The news was relayed over Twitter and quickly removed.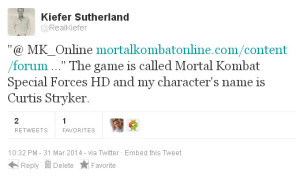 Mortal Kombat: Special Forces

was a Playstation game released in 1990.  It was designed to be a followup to the successful Mortal Kombat Mythologies: Sub-Zero

, taking place before the events of MK Mythologies.  After cocreator John Tobias and other staff members left Midway Games, Special Forces was rushed to completion and only released on the Playstation.  The game was originally going to allow the user to chose between playing Jax or Sonya, however the final version only had Jax as a playable character.  The poor reception of the game left the design team sticking to fighting games until their release of Mortal Kombat: Shaolin Monks

in 2005.
It's very unlikely that Netherrealm Studios and Warner Bros. Entertainment would rank such a low rated and low selling game.  So chances are that the HD version of Special Forces is going to be a complete remake of the original game.  This also makes sense in relation to the studios recently shutting down their HD remake of the original Mortal Kombat series, as well as the fan made remakes.
Netherrealm Studios has yet to comment on the leak.
Related:
Mortal Kombat Online: Kiefer Sutherland Starring in Special Forces HD
Sequel to 2011′s Mortal Kombat On The Way
Unofficial Mortal Kombat HD Shutdown by Warner Bros.
You may also like..
One Response to "April Fools: Mortal Kombat Special Forces HD on the Way"