5 Things about The Walking Dead Season 5 Sneak Peak.
Posted by The Nerdiot on July 3rd, 2014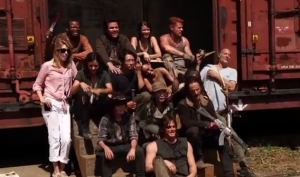 With season 5 of The Walking Dead right around the corner, premiering October 12th 2014, we have been left thinking that our rowdy gang of hooligans are going to go ballistic and take Terminus by storm.
According to E-Online's article on The Walking Dead Season 5, this season is going to be "Bloodier, more action-packed and filled to the brim with zombies". Here's hoping.
We here at Nerdiots did notice something about the "Greeting from set: The Walking Dead: Season 5″ video on YouTube that you guys may find interesting.
Here are the 5 things that we noticed about the full cast sitting together.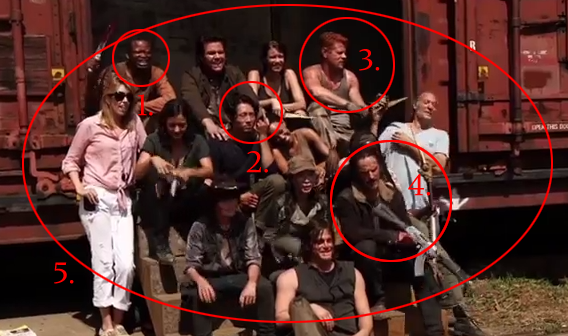 1) Bob Stookey, played by Lawrence Gilliard Jr. seems a little too happy(or scared?), I'm surprised he has made it this long but he's proved to be a great addition to the group even with his addictions and issues.
2) Glenn(Steven Yeun).. little "short round" Glenn(yeah, it's an Indiana Jones reference, a while back people thought he was Short Round.) sure has changed from season 1. Sneaky Glenn has turned into badass Glenn. In this picture Glenn is showing off his badassery by flipping the camera off, way to go!
3) Sgt. Abraham Ford(Michael Cudlitz) appears to be more concered with what is going on in Terminus than sitting with his crew taking a "family photo". What could he be looking at? Maybe he thinks Washington DC is that direction and they need to get there NOW!!
4) Rick seems to be worried about his rifle, is it clean enough for him? After the video plays you'll notice that he jumps right up with this "I gotta go get some" attitude. It's looking like this season is gonna start out with a bang!
5) I know this is just the group that was placed in the car, and we get to see a little Carol in the beginning and Tyreese gets some screen time.. But where is Judith? I would like to still think she's doing good on the back of Tyreese, but I'm getting a little worried.
There's a rumor going around that Daryl is going to bite the dust in this first episode, a part of me would like to see it happen only because of the chaos it would generate, but the other part wants him to stay alive. With all the action they're claiming to take place, I guess we'll see.
My hopes for season 5, I don't want it to start out the way the other seasons have, waiting to find out if a character is ok or if they're gone for good. We went through this with Judith at one point where season 3 ended and we didn't get to find out about her until almost 6 months later. We've waited to see what happened to Beth, so please.. PLEASE let us know!
Check out the YouTube video provided by AMC.com
You may also like..