Happy 25th Birthday to the original Game Boy.
Posted by The Nerdiot on April 21st, 2014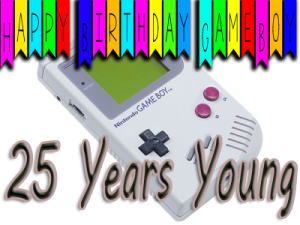 April 21st, 1989, the original Game Boy became available to gamers in Japan. It wasn't for another 3 months that the portable play pal became available to the United States and Canada(July 31st 1989) and over a year later European(Sept 28th 1990) gamers had their chance to enjoy the Game Boy.


So what was so great about the Game Boy? This little system had to compete with systems that were already far superior in the handheld console race for glory(Sega Game Gear). The Game Gear had a beautiful color screen centered between the controls, while the Game Boy's green and black screen sat above the controls, giving a little more of an awkward feel to playing games than it should have.


Oddly though, this wasn't Nintendo's first attempt at creating a portable gaming system, The Game and Watch series came out almost 10 years before the Game Boy. The system (my opinion) didn't really stand a chance, but Nintendo didn't let it down. They kept releasing new versions(Color, Light, Pocket, Advance, Advance SP, Micro, DS, DS Lite, DSi DSI XL, 3DS, 2DS, and 3DS XL), building up to the greatest handheld system(again, my opinion) that there is, the 3DS XL. Nintendo has really stayed behind, trying new things such as the 3D technology and have been pretty successful. They've really been an underdog, competing with more advanced systems(PSP, Vita, etc) through out the generations, yet Nintendo keeps pressing on.


More information on the Game and Watch system can be viewed here.


I personally didn't get a Gameboy until well after the 90′s, my first handheld was a Game Gear(Big Sonic fan). I later ended up getting a newer version of the GameBoy(Color) with a purple case. Nintendo grew stronger with their portable systems with games like Pokémon and Mario Brothers being pretty big hits on the portable scene.


With that being said, I want to say Happy Birthday to the Original Game Boy. Although not my favorite at any point in time, it sure had it's moments.