ComicNom: Trinity War
Posted by hexdsl on July 24th, 2014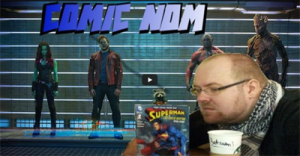 Title: Justice League Trinity War (New 52)
Writer: Geoff Johns, Jeff Lemire, Ray Fawkes, J. M. DeMatteis
Artist: Ivan Reis, Joe Prado, Oclair Albert, Eber Ferreira, Doug Mahnke, Christian Alamy, Keith Champagne, Tom Nguyen, Marc Deering, Walden Wong, Mikel Janin, Daniel Sampere, Vicente Cifuentes, Renato Guedes, Fernando Blanco, Zander Cannon, Patrick Zircher
Publisher: DC Comics.
Price: RRP: £22.50 (Amazon Price £17.50 with Prime)
Release date: July 2013 singles (22 March 2014, Collected Volume)
This book follows the Justice League as they slowly come in conflict with the Justice League of American and The Justice League Dark due to a series of manipulations and misunderstandings in no small part due to the mysterious character Pandora, the same one of ancient mythology.
Superman is accused of murdering the JLA team member Dr Light and willingly allows himself to be incarcerated but as events unfold he becomes physically sick and starts to look for answers.
Tensions run high as Wonder Woman and Batman both have different ideas regarding how best to resolve the situation, soon enough Pandora's Legendary box becomes the center of attention and the book heads towards its climax.
This is a story of mistrust and manipulation. This large volume collects:
Justice League 22
Justice League 23
Justice League  Dark 22
Justice League Dark 23
Justice League of America 6
Justice League of America 7
Trinity of Sin: Pandora 1 -3
Trinity of Sin: The Phanton Stranger 11
Constantine 5
Free Comic Book Day New52 Special 2012
Lets move on to my Thoughts regarding this title.
—————————————————
2nd Channel: http://www.youtube.com/user/ComicNomVlogs
Web site: http://www.ComicNom.com
Hex: http://www.twitter.com/HexDSL
Also check out the great work over on on http://www.nerdiots.com/ a site where I write blogs!
Comments and thumbs up are welcome. - No really. Please comment dudes
You may also like..