Colombia Beats Uruguay 2-0 at World Cup
Posted by The Nerdiot on June 29th, 2014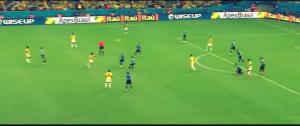 I'm not much of a fan of the World Cup, mostly because I'm not a huge fan of soccer. But I thought it would be cool to do a little article on Uruguay being beat by Colombia and give my thoughts.
I've been jumping through some of the information on the scores, and how the ranking works.. and I have no idea how this works. However this guy, James Rodriquez of Colombia had what I'm assuming is an amazing play.
Check out the video here:
The video was a bit tough to find, it seemed a lot of people wanted to cash in on this having live footage yet no one actually had live footage. But there it is!
So Uruguay goes down, which means not that much to me, but for those who enjoy the sport big congrats to Colombia fans!