Cards Against Humanity (and My Mom)
Posted by hexdsl on March 19th, 2014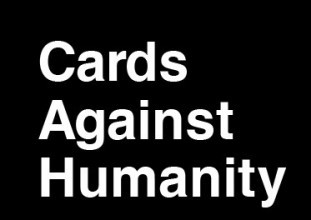 Cards Against Humanity is a now a well known card game. I assume by now, most people reading this will be pretty well aware of what 'Cards Against' is and how its played so I won't go into any massive depth but the basics are as follows:
The game is played like this (again, keeping it basic as most of you will already be aware of this.) There are white cards and black cards. Each player takes a turn being the 'Card Tsar' (the one who reads the cards aloud) they take a black card and read aloud, the 'players' then select the best 'response' or 'fill in the blank' card form the ones they have in their hands. an example of play is this
Card Tsar: "and the BAFTA for ___ goes to ___"

All players hand over two cards

Card Tsar: "and the BAFTA for NECROPHILIA  goes to DR MARTIN LUTHER KING "

Everyone giggles

Card Tsar: "and the BAFTA for BLOWING UP PARLIAMENT goes to A SUPER SOAKER FILLED WITH CAT PEE"

Everyone giggles

Card Tsar: "okay Necrophillia and Martin Luther King win that one!"

Player 'Neil' wins round and gets handed the black card to prove he won, becomes the Card Tsar. Whoever gets the most Black Cards wins that game.
Easy, and fun. It's simple to play and the combinations of randomness and possibility for inappropriate combinations make it a great game for groups of friends of for testing the metal of strangers.
The motivating factor for me to snag the game was that I figure it would be GREAT at Christmas time when everyone wants to do 'something as a family' but no one wants to play Mario Kart. It's an all round easy to play game that has almost zero learning curve and and include everyone. Unlike Mario Kart my disabled father can join in without any barriers.
The box cost me £20 from Amazon. when it arrived I noticed that I had got the UK EDITION of the game that has been localised with more UK centric things like 'Boris Johnson' and 'Margaret Thatcher.' I havent had chance to go through all the cards yet but I'll bet there's a Tea reference in there some place too.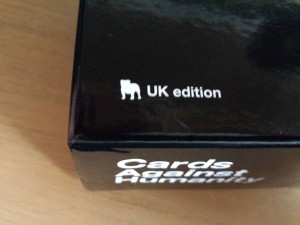 The box is well made thick card with a shiny finish and the cards are excellent plastic coated card (like those premium playing cards you use when you pretend your Gambit… no? just me then.) There are far more white 'response' cards than black 'question' cards as expected and the quality of them is consistent.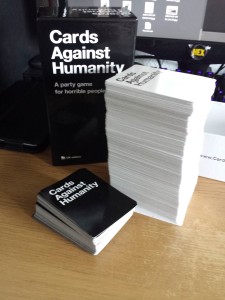 I'm  very happy with my purchase and am planning on buying all of the £8 expansion packs over the next few months so that when the time comes I play with my Mom there will be plenty of inappropriate phrases for her to utter while I chuckle on.
Remember folks, you can get Cards Against for free as a PDF from the official site of you are able to print your own.