Mortal Kombat X Official Announcement
Posted by Frazier on June 2nd, 2014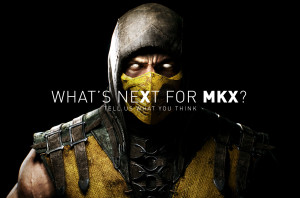 We've been telling you all month that it's coming.  Now it's officially here.  Ed Boon today announced the new Mortal Kombat on Twitter, and gave of a preview of what to expect.
The name of the game is "Mortal Kombat X"

— Ed Boon (@noobde) June 2, 2014
Who's Next? - Official Mortal Kombat X Announce Trailer http://t.co/SROrZe2n7u — Ed Boon (@noobde) June 2, 2014
UPDATE
Warner Bros. Entertainment and MortalKombat.com's official press release states the game will be available on "the PlayStation®4 and PlayStation®3 computer entertainment systems, Xbox One, the all-in-one games and entertainment system from Microsoft, the Xbox 360 games and entertainment system from Microsoft and Windows PC" sometime in 2015. The game will have it's public appearance at this year's Electronic Entertainment Expo (E3).
Mortal Kombat X is designed to use a new graphics engine, and despite not being an exclusive for the next gen gaming consoles, will most likely take advantage of the PS4 and XBox One's performance capabilities. The official press release goes on to state:
Mortal Kombat X combines cinematic presentation with all new gameplay to deliver the most brutal Kombat experience ever, offering a new fully-connected experience that launches players into a persistent online contest where every fight matters in a global battle for supremacy. For the first time, Mortal Kombat X gives players the ability to choose from multiple variations of each character impacting both strategy and fighting style. Players step into an original story showcasing some of the game's most prolific characters including Scorpion and Sub-Zero, while introducing new challengers that represent the forces of good and evil and tie the tale together.
It has begun!!
You may also like..