"Dumb and Dumber To" looks really dumb.. and that's a good thing!
Posted by Frazier on June 11th, 2014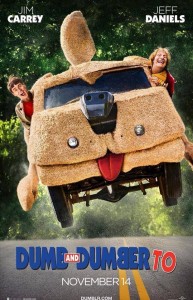 20 years.  Yes that's right it's been 20 years since Dumb and Dumber left us walking out of the theater feeling a little bit more stupid.  It was 1994 when we last saw Jim Carrey and Jeff Daniels make history.  The original film only received two out of four stars from Roger Ebert, but became a cult classic immediately.
The series spawned a horrible prequel, Dumb and Dumberer: When Harry Met Lloyd, in which heart throbe Eric Christian Olsen tried to fill the shoes of Lloyd Christmas.  Besides the prequel there was also a short lived animated series that barely lasted for a year.  Little known fact: the cartoon was one the last Hanna-Barbera cartoon to air on ABC.
So now 20 years, a botched animated series, and a horrible prequel later I present to you Dumb and Dumber To.