Chromecast: Streaming media that thinks its better than you?
Posted by hexdsl on June 8th, 2014
I had a little more cash than I expected rolling around my bank this month and like any good geek I decided to spend it on some new technology (a toy.) I had been thinking about picking up a Google Chromecast for some time now and this struck me as a great time to give in to temptation and just order it.
"What's a Chromecast?" I hear some most of you shout. Well, a Chromecast is a little HDMI nugget (dongle?) that plugs into your TV, the other end needs to eat some power and it does this with a USB cable, if you're lucky enough to have USB on your TV then its a very tidy little package (0therwise, use the included wall plug) you plug it in and then connect to it via a nice mobile phone application (it tells you how to get that, with some on screen instructions) after a few seconds of helping it find your network and connect to it your ready to go. What the little nugget actually does it allow you to send online media to your TV from your Android/iOS device.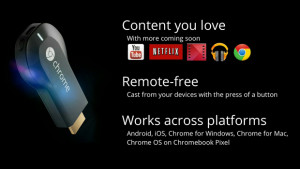 Chomecast enabled applications on your phone will have a little icon in the corner, press it and the application connects to the device, then when you start video or media it starts on the TV not the Android/iOS device. Very exciting.  The benefit to a Chromecast over other devices that play media in this way is that the Chrome Cast is only £30 (GBP) and as you already know how to use your Android device (Or iOS device if your one of those people) there's almost no learning curve for using it. You just load your application as normal and the media plays on the TV. It's a very polished experience even the volume controls on your device change the volume of the TV, slick!
But, is it useful?  I've had mine for about a week and so far it's seen a lot of YouTube. I really like how I can just play a video without having to use a remote. Before I had the Chromecast I used the PS3′s YouTube application and finding video's in the menu was very difficult and the Android connection that the PS3 application offered rarely worked. With Chomecast I can locate the  content on the rather nice Android application and then just press a button, within moments  it's on my TV. Other things that work are Google Music, Netflix and BeyondPod. It also works with the Plex Media server, so if you have that set up on your network you can play content from your computers just as easy as you can from any on-line source. There are also some third party applications to enable streaming from Twitch and a few other websites.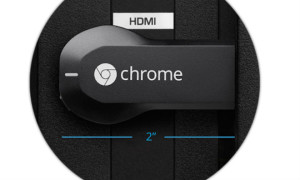 Personally Youtube, Netflix and Google Music account for about 99% of my multimedia entertainment so its pretty good for the things I want to watch. I am however a little confused as to why I can't just make it play a video from my Nexus Tablet, instead I have to use Plex Media Server to play all none cloud based content. For the very few things I watch outside of the aforementioned services it is  annoying.
When you are not playing content on the device you are given a very minimalist 'home screen' that is a background slideshow of Google's selection with a clock and a connection indicator. As the Chromecast has no actual interface of its own you can't change the backdrop slideshow or, well, anything. I'm sure if I went to the effort of Rooting the device (installing custom software to release restrictions ) I could do whatever I wanted to but I really don't want the hassle of dealing with that on what is essentially a TV box I will be using to watch YouTube.
The other big gripe I have with the device is that its locked to Google's own DNS service. No matter what DNS you use at your home (unblock-US maybe?) you can't just use those settings hard wired into your network. This means that all content is region locked no matter how you have your router set up.  This is easily circumvented by using a DD-WRT based router to redirect calls to 8.8.8.8 and 8.8.4.4 to your own DNS provider but not something most people would have the equipment,  skill or desire to do. I think that this is why this DNS lock irritates me so much. For the people that don't use custom DNS its going to be totally irrelevant and anyone who does use custom DNS settings is almost always going to be skilled enough to get around it with very little effort.  I can only imagine that Google did this to appease their content copyright holders.
With all the pointless restriction of the device I somehow feel like Google think they are doing me a favour by letting me own the device, in fact, other than being able to use it I have no real control over what it's doing on my network. As someone who is very security concious I plan on using my rather nice router software to isolate it on my network (yey for DD-WRT, its free by the way) I think it's only a matter of time before the device starts to show me an advertising slideshow on that home screen and as we know, Google will be mining all the data it can from me while I'm using it.
With those obvious issues a side its important to know that the device works PERFECTLY all the time. I have really been using it a lot and it's very impressive technology that I have no doubt will be used often for the foreseeable future.
If you have 30 quid knocking about and you watch as much Netflix/YouTube as I do then I really think its a good idea to pick on up just because it so darn easy to use. If you buy it soon there is an offer on and you  get £5 of Play Store credit for free with a new device.  I used by free credit to buy a book, that's something you cant play on a Chromecast so Google missed a trick there

Chromecast's are available from the Google Play store or Amazon as well as Tesco Direct here in the UK.
2 Responses to "Chromecast: Streaming media that thinks its better than you?"