Teen Suspended for asking Miss America to prom
Posted by The Nerdiot on April 19th, 2014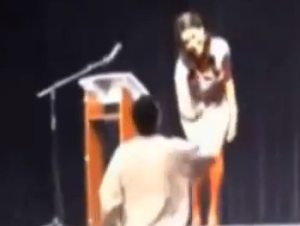 So back in high school, asking girls to prom seem to be the normal thing to do, and I think if Miss America would have shown up at my school, chances are I would have at least thought about asking her to my prom.


So why did this kid get 3 days of in house suspension for asking her to his high school prom?


Apparently this had been planned out for a few weeks in advance and the teen was told repeatedly not to do this by school authority. But who really listens to teachers and principals anyways? I think this was super brave, this kid gets my respect. Check out this video and watch him pop the question to what could potentially be his dream girl.