Farewell to the People's Poet
Posted by jesusporkchop on June 26th, 2014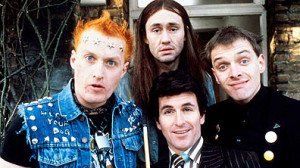 I try not to get caught up in celebrities and their lives. It can be difficult as celebrity news seems to take precedent
over real news. I guess Justin Bieber getting baptised is more newsworthy than upcoming elections. But every once in a
while something happens that does warrant some actual attention. You may or may not have heard that English comedic great
Rik Mayall has passed away at the age of 56. For those who don't know who Rik Mayall is I can help you a bit there.
First go get a copy of "The Young Ones" tv series. Beg, borrow, copy, download, steal, or just buy it if you're into that
sort of behaviour. But get it, watch it, laugh, watch it again, and laugh some more. Rik Mayall's partnership with Ade
Edmundson makes for some fantastic moments in this series. So after you've watched that at least a dozen times then you'll
want to procure a copy of Bad News' self-titled album. This is an epic piece of heavy metal history. Bad News set the
standard for hard rocking and harder partying. It's hard to believe that the same comedic geniuses that brought us The
Young Ones were also the minds and talent behind Bad News. The album has adequate production from some guitarist named
Brian May who was in a band called Queen. (Who? No, not The Who, Queen. Never heard of them.)
Rik Mayall was brilliantly funny. Now he's gone. But it's not too late to take a moment to appreciate the laughter he left
behind. Some final words from his comedic life partner Ade Edmundson,
"There were times when Rik and I were writing together when we almost died laughing. They were some of the most carefree
stupid days I ever had, and I feel privileged to have shared them with him. And now he's died for real. Without me.
Selfish bastard."