Snyder Teases New Batmobile
Posted by Frazier on May 13th, 2014
On Monday Zack Snyder teased a glimpse of the new Batmobile.  Snyder took to Twitter where he wrote:
Could be time to pull the tarp…Tomorrow? http://t.co/Nmm0QqWYYH pic.twitter.com/E6iKluZNDj

— ZackSnyder (@ZackSnyder) May 12, 2014

Not much can be seen of the new Batmobile except for it's generic shape, and the back tires.  It does seem to incorporate a style a bit similar to the Tumblr from the Nolan films

, while it's shape looks similar to the Schumacher and Kilmer's Batmobile from Batman Forever

.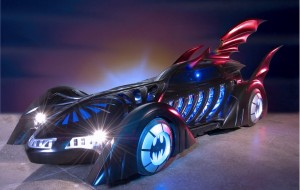 Snyder is currently working on the sequel to the 2013 film Man of Steel, which is being called "Batman vs Superman".  The yet untitled Batman vs Superman is set to hit theaters in 2016.  It will be starring Henry Cavill as Superman, and Ben Affleck as Batman.  Snyder's tweet does seem to imply that he may be revealing the rest of the Batmobile on Tuesday.  Only time will tell.
-F