X-Men: Apocalypse Characters and Possible Spinoff
Posted by Frazier on April 14th, 2014
Only a little over a month until the next X-Men movies airs, X-Men Days of Future Past, and with it we'll find the fate of some of our beloved characters.  With the upcoming sequel we know that Fox has some big plans for the X-Men and Fantastic Four sequel, we've also released some stipulation as to where these new sequels may come from.  Even though the next movie has yet to be released information about the sequel, X-Men: Apocalypse, has already hit the internet.  X-Men: Apocalypse is slated to be released on May 27th 2016, and the creators are already releasing details about what we can expect.
Bryan Singer recently sat down with Entertainment Weekly to reveal some details about the sixth X-Men film (not including the Wolverine titles).  One very key detail that the article states is "Singer also says he's interested in bringing in other mutants, like Gambit and Nightcrawler."  Nightcrawler was introduced in X2, but wasn't brought back for the third X-Men movie because they thought it'd be strange to have two blue furry creatures since the third movie also included Kelsey Grammer as Beast.  Gambit has also been featured on screen in the 2009 movie, X-Men Origins: Wolverine , where he was played by Taylor Kitsch .
In more character news X-Men producer Lauren Shuler Donner said "There was a regime [at the studio] that didn't see the worth in [spin-offs], and the current people who run Fox understand, embrace it, and we're going to do right by it.  I'd like to do Gambit. I'd like to do Deadpool. We'll see. There's a lot of really great characters."  Producer/writer Simon Kinberg (X-Men: First Class) also showed interest in writing spin-offs for Gambit, and even Mystique, while Ryan Reynolds has been pushing a Deadpool movie since he played the character in X-Men Origins: Wolverine.  The setup for Days of Future Past leaves lots of room for the discussed X-Force movie as well as these potential spin-offs.
Synger says the next movie "won't necessarily create an alternate universe, but there may be some swapping things that I'm playing with".   Producer/writer Simon Kinberg gives us an idea of the scale we can expect in the next movie, "From a visual standpoint it actually may be a bigger movie than Days of Future Past because there'll be disaster movie imagery, like the title would imply."
Synger tells us that "You won't feel at the end of the movie that it set up Apocalypse. What it does is it sets up possibilities. But what we'll discover in Apocalypse is that events in this movie made that happen.  Apocalypse deals with ancient mutancy. What would humans have thought mutants were? What would mutants think humans were? You're dealing with gods and things like that. And what if one survived and what if that found its way into our world?"
For those of you that aren't familiar with Apocalypse's back story, he is an ancient mutant born 5,000 years ago.  He was named En Sabah Nur and was known as the first mutant.  Although he was outcast as an infant he was taken in by a raider and scavengers where he was taught survival of the fittest as a code of life.  Apocalypse's powers include complete molecular control of his body, but the most dangerous part is his vast intellect.  Throughout his years he has gained intelligence from celestial beings allowing him to also alter humans or mutants into creatures that fit his purpose.
We may not be able to see Apocalypse on the big until 2016, but we'll be able to see X-Men: Days of Future Past next month on it's May 23 release date.  X-Men: Days of Future Past is a direct sequel to the 2011 X-men: First Class.
Related:
EW: 'X-Men: Apocalypse': Who will return? What new mutants may appear? Scoop on the next X-Men film
The New Faces of X-Men: Days of Future Past
X-Men Days of Future Past Reveals Time Travel Details, Nerd Rage Ensues
CinemaBlend: Deadpool Movie Update From Ryan Reynolds Promises It's Still Alive
EW: 'X-Men': Could Jennifer Lawrence's Mystique get the next spin-off film?
Likes

(

0

)
Dislikes

(

0

)
Get more Nerd News and Updates!
Sign up now for a chance to win one of these GREAT games!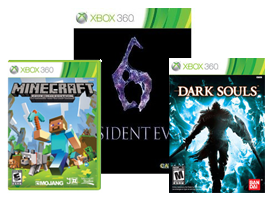 Games with Gold Xbox 360, updates!
Movie and Video Game Reviews
Important information about upcoming releases!
Enter your email and stay on top of things.